Our Massachusetts Land Rover service center offers expert Land Rover and Range Rover repairs, maintenance and body work, with factory-trained technicians who perform every job to the exacting standards of the Land Rover brand. Whether you own a new Range Rover purchased at our Peabody Land Rover dealership or a used model bought through a private sale, we are here to answer every Land Rover service and maintenance question and keep your Rover running at its best.

Use our easy Greater Boston Land Rover service appointment form to book repairs and scheduled maintenance for your Range Rover or Land Rover today. We offer convenient hours from 7 AM to 7 PM, Monday through Friday, and Saturday hours from 8:30 AM to 12:30 PM. If you have any questions or immediate Land Rover or Range Rover service needs, please call us at 978-535-9200.
Meet our Master Technicians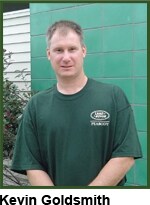 Let's just say we have the best of the best working on your Land Rover. We're proud tohave Kevin Goldsmith,on our team.
Kevin, who began working on Rovers in 1988, brings an impressive resume ofaccolades, experience and knowledge to our Peabody dealership. He is the recipient of the 2006 Marque of Distinction award which is given to 1 Land Rover technician in the USA and Canada. Plus, with his ASE and Land Rover certifications, rest assure that your Land Rover is in the best hands. Plus, Kevin is also a Gold Certified Master Technician, the highest title given to a Land Rover technician. Along with our Master Technician and shop Foreman, Shamus Curran, we're proud to have the finest Technical team in New England.
Outside of the dealership setting, Kevin enjoys spending time with his wife and 2 children.We invite you to stop by and meet Kevin and our exceptional Land Rover Peabody staff. We look forward to your patronage and the opportunity of doing business with you.
---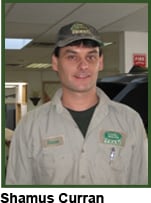 At Land Rover Peabody, we are never shy about touting the outstanding employees at our dealership. We are proud to spotlight our very talented shop foreman and Master Technician, Shamus Curran. Achieving Land Rover Master Technician status requires the demonstration of expanded knowledge and skills, meeting lengthy experience requirements, and reaching customer satisfaction milestones.
Shamus has been a part of the Land Rover Peabody family for 10 years. In that time, he has earned the trust and respect of his customers and fellow staff members.As shop foreman, Shamus is dedicated to mentoring technicians as well as diagnosing and repairing the most challenging problems that enter the shop.
A top graduate from the Franklin Institute, Shamus brings not only experience to Land Rover Peabody, but also a resume of honors for scholarship and meritorious achievement in automotive technology. His passion for the Land Rover product continues to thrive with the advancement of Land Rover technology and his dedication to study and understand the vehicle from the inside out.
Let it be known that when you bring your Land Rover in for service, that there is no problem too big or too small for Shamus. He is our shop foreman, an ASE Certified Master Technician, a Land Rover Certified Master Technician and a truly extraordinary individual. Land Rover Peabody is extremely proud to have him as a member of our family.
---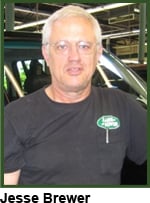 Since 1973, Jesse Brewer has repaired several thousand vehicles from coast to coast. In that case, let it ring true that experience goes a very long way. His tremendous automotive knowledge and experience is reason enough to have him working on your Land Rover. Jesse truly believes that there is no other 4X4 in the world as powerful as a Land Rover.
Jesse, a graduate of the University of Massachusetts, has been a Land Rover technician since 1988.Previously, he has worked with other distinct auto manufacturer's including BMW. In that time, he has received a number of certifications and, most recently, obtained Land Rover Master Technician status--the highest level of certification given to a technician.
We wanted Jesse on board at Peabody because of his many years of experience and commitment to the brand, says Steve Pawlowicz, Service Director with LRP.
In Jesse's free time, he enjoys many hobby's including computers, reading and spending time with his daughter.